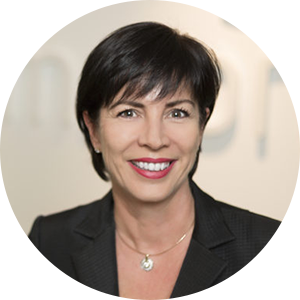 Managing Director, Laing + Simmons — REB Industry Thought Leader 2017
Leanne Pilkington is one of the real estate industry's most respected and sought after commentators.
Leanne is Managing Director of leading New South Wales boutique real estate group Laing+Simmons, and one of the real estate industry's most respected and sought after commentators   
She's the only female Managing Director in real estate franchising in New South Wales and one of only a handful in Australia. Addressing the gender imbalance, empowering women agents, developing a Male Champions for Change program suitable for small business and pushing towards industry-wide professionalism are all key passions for Leanne.  
She continues to pioneer industry firsts such as establishing a women's real estate networking group and introducing counselling and employee assistance programs for Laing+Simmons team members, while serving on industry bodies and championing the growth of professionalism in the industry at large.  
Her 35 years of experience covers the full spectrum of real estate services: residential sales, property management, retail management, commercial leasing, property development and franchise management  
Leanne is a Licensed Real Estate Agent, completed her Ass. Dip. Valuation at UTS, and a Masters Degree in Business Administration at the Sydney Graduate School of Management.    
She has been a Finalist in both the Telstra and Optus Business Women awards, and AREA for Most Influential Women in Property. She has been awarded the REB Thought Leader for 2017, was recognised in the recent 100 most Powerful People in Sydney list, and she is the current President of the REINSW.
Topics covered
Leadership
Business Culture
Women in Business
Awesome presentation, very inspiring with so much passion for the team Leanne leads. Great examples along the way.
Loved her, very relatable.
Leanne was probably my favourite speaker and embodiment of what achieving and living "backing yourself" and confidence that many women lack. There was alot of substance in her story with key operational tactics that delivered the results which I'll be happy to take back. A lot of organisations seem to be missing the value of culture and she's a great example of what the effectiveness of the can bring.
Leanne was great and inspiring.
This woman has energy! Such an inspiration for how to turn things around and be in for the long haul...
SUBMIT CONTACT REQUEST FOR
Connect, engage and be inspired — today.