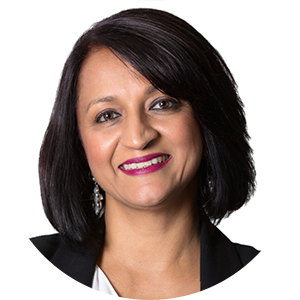 Global CEO, Multi Leadership Award Winner, Author, Migrant, Business and Social Entrepreneur | Global CEO Property Management for Harcourts International
Sadhana Smiles is the Global CEO Property Management for Harcourts International, prior to this role she was the CEO for Harcourts Victoria.
Starting her career as a receptionist today she has a brand reputation that places her amongst her peers as an innovator, passionate thought leader and has a strong voice on the issues of domestic violence and diversity.
Sadhana lead Harcourts Victoria to become the leading business unit globally within the group, the fastest group franchise group in Australia, increasing their market share over their competitors, increasing revenue by 53% and EBIT by 24% in just over 6 years. She has taken the brand to being one of the most recognised, most quoted and most heard.
In 2017 she became a joint venture partner with Harcourts Group Australia in a Property Management Business – Harcourts Move. This business is now the hub of innovation for the group.
In 2018 she saw an opportunity for a global role within the group, focusing on the investment sector which is going through rapid change. She drew up the role spec, presented it to the Managing Director and within a week she had taken on the role.
Sadhana is passionate about the issues of violence against women and diverse gender equality - "our workplaces must reflect the communities we work in."
In 2013 she bought Walk a Mile in their Shoes to Victoria, getting all men and women in Harcourts to walk a mile in Melbourne in high heels. This is now a national event for the group across Australia, raising funds for White Ribbon's Breaking the Silence Schools Program and making a clear statement as a group that violence against women is not OK!
In 2013 Sadhana published her first book People Power – Did You Have Them @ Hello, a step by step guide to developing and managing performance driven teams. In 2016 she wrote I Want What she's Having a self-help journal to coach and mentor en masse, helping to discover who you are and what you stand for.
Sadhana was named the Victorian Telstra Business Women of the Year 2013, as well as the Victorian Telstra Private Corporate Sector award.
In 2016 she was named AFR/WBC One Hundred Women of Influence in Australia.
In 2017 Sadhana won the Victorian Leader/Manager of the Year with Institute of Managers and Leaders.
In 2008 Sadhana founded Links Fiji, a not for profit, focused on providing pap smears to women in remote islands. Cervical cancer is one of the highest causes of death for women in Fiji due lack of testing. A migrant to Australia from Fiji, Sadhana's drive comes from her desire to leave the world she influences a better place.
Sadhana has earned a reputation as a popular speaker and presenter, regularly asked to present at some of the industry's most prestigious events, Women's Conference and many franchise conferences
Topics covered
Leadership
Business Culture
Women in Business
Customer Service & Experience
Sales & Marketing
Wow! Easily the most impactful presenter for me this year. From the minute Sadha started talking, I knew this was someone to stand up and pay attention to. I critically reflected on- how I "show up" as a leader; how I choose my approach in various situations; and how I can make strategic long term decisions. Everything Sadha said was genuine, and all had an overriding theme of personal accountability. It was fantastic seeing someone unashamedly take ownership and pride in their individual style- this demonstrated true confidence. Sadha's messages about listening to understand really resonated with me. The steps and recommendations in her book are excellent and will prepare me well for my new leadership position. I was totally challenged and inspired.
Sadhana is the most confident and driven person I think I have ever met. She set's goals and lives by her choices. I will definitely be setting clear goals for myself from here forward.
I heard your talk this morning and got so much out of it – thank you for your energy, wisdom and inspiration. I feel really motivated both as a manager and as an employee from thinking about what you presented and setting high levels of accountability for myself and my team.
Sadhana exuded confidence, and I grappled with this at times. I wonder how someone can be "on" like that all the time. She did provide some valuable insight and understanding on progression as a female in the business world.
Sadhana gives employees the opportunity to share their story by asking "Is there something going on?" - And waiting for the answer. Discussing the need to be yourself and have confidence in yourself was very important to her success. She set strong goals and was true to her values along the way. Asking yourself - What do you stand for? And be prepared to give back to society.
SUBMIT CONTACT REQUEST FOR
Connect, engage and be inspired — today.